More shoppers than ever are spending time purchasing items such as mobile media, magazine subscriptions, and retail items online. In fact, it is estimated that over 40% of worldwide internet users have purchased something online at one point or another.
There are many reasons why you might consider accepting payments through your WordPress website. Maybe you run an online store, accept donations, sell digital products, or offer services. Regardless of what you need to accept payments for, rest assured that WordPress makes running an online store relatively straightforward thanks in large part to plugins and well-designed WooCommerce ready Themes.
Today we will look at some of the most common WordPress ecommerce payment plugins you can integrate easily onto your WordPress website.
A Little About Running an E-commerce Store
From designing the perfect website, to setting up an email list, to promoting your products on various social media platforms, there are many details that go into setting up an e-commerce store. Though WordPress offers you great ease when it comes to integrating payment platforms onto your website to accept payments, there are some things you must first understand.
Payment Gateway
This is what enables a credit card transaction to take place on your website. It is the processor between your website and your merchant account and includes security and encryption so that both you and your customers are protected. Transactions are verified and authorized by your payment gateway. After authorization, funds are then transferred to your merchant account, and later your own personal business account.
Merchant Account
This account is a type of "temporary" bank account allowing you to accept credit or debit card payments from your customers online. After a successful sale has taken place on your website, and after your payment gateway has verified the transaction, the money is then transferred to your merchant account until it is later release into your personal business banking account.
You will need both a payment gateway and a merchant account for any e-commerce store, though they often come bundled together. You always have the option to set up your own merchant account whereby you will receive your money much quicker, however the process is far more complex. It is sometimes easier to use a bundled service and wait the allotted time for the merchant account to release your money into your account.
WordPress Ecommerce Payment Plugins
Now that you have a basic grasp of what it takes to accept payments from your WordPress website, let's take a look at some of the best payment gateways available today and what they have to offer you and your online store.
PayPal Payments Standard
This payment gateway is probably one of the most easily recognized and widely used. Customers are redirected away from your website (sometimes seen as a downside) after clicking on the 'Pay with PayPal' button, and finish their transaction through the PayPal website. As the owner of the e-commerce store there is no reason to worry about processing, authorization, or security issues as PayPal handles it all.
This is a great example of a payment gateway and merchant account bundled into one. Once the transaction is authorized by PayPal, the money is held in your PayPal account until it is released into your business banking account. Though there are transaction fees for using this service, there are no setup or monthly fees, making this a simple and effective way for you to collect payments through your website.
Here are some plugins that offer easy integration onto your website that will allow you to accept payments via PayPal Payments Standard: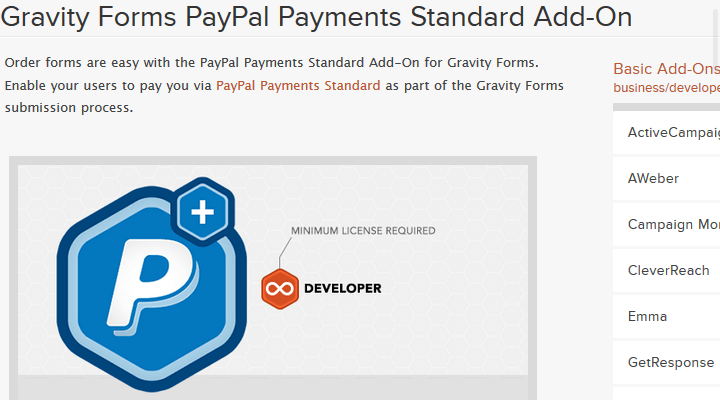 Used as an advanced add-on included with a Gravity Forms developer license, this plugin makes accepting PayPal payments super easy. Offering seamless integration onto your website, automatic user transfer to complete the transaction, a donation field for accepting PayPal donations, and a recurring payment and subscription option, this plugin should definitely be considered if you are already using Gravity Forms and wish to accept PayPal payments.
Price: FREE

Easily add an 'Add to Cart' button for your products, services, and even digital downloads on any post, page, or sidebar using this plugin. You can easily sell products or services directly from your website with one simple click that directs users to finish their transactions via the PayPal interface. This lightweight solution also comes with multiple built-in features such as sandbox testing, customer email notifications, coupons, SKU tracking, full translation in any language, and mobile friendliness.
Price: FREE
PayPal Payments Pro
This service is the premium version of PayPal Payments Standard and allows your customers to complete transactions using PayPal directly from your e-commerce store rather than redirecting them to another (although secure) website to finish their purchases. You even have the option to accept payments via telephone using PayPal Virtual Terminal, which widens your sales reach. Just like PayPal Standard, PayPal Pro is both a payment gateway and merchant account in one and comes with no set up fees, however there is a $30 monthly fee to use this service.
Here are some of the best plugins you can integrate onto your e-commerce site for accepting payments via PayPal Payments Pro: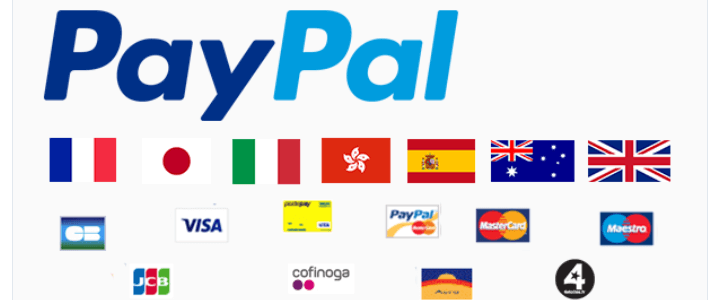 This PayPal Pro compatible plugin offers WooCommerce store owners a secure way to accept credit and debit cards via PayPal directly through their website without capturing or storing any card information. Choose your own template, offer refunds, redirect to a customizable page hosted by PayPal, or have you customers finish their transactions on your own website's checkout page using iFrame.
Price: $21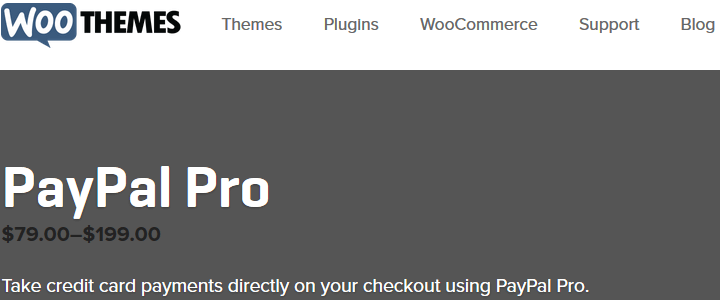 Another great WooCommerce plugin for accepting payments via PayPal Pro is WooThemes' own PayPal Pro. As the official extension for accepting PayPal payments, this plugin makes purchasing easier than ever for your customer because they never leave your website. It also boasts being a payment gateway for PayPal Pro PayFlow. One thing to note about this plugin is that it will not support subscriptions or recurring payments of any type.
Price: $79
Other PayPal E-commerce Payment Plugins
Stripe
Also a bundled payment gateway and merchant account, and noted as one of the best alternatives to PayPal, Stripe allows you to accept on-site payments without the monthly fee PayPal Pro requires. It is however, much more complex that PayPal and is geared more towards developers.
Accepting over 100 currencies and supporting countries from all around the world, this payment gateway is perfect for internationally selling e-commerce stores. It also offers you the ability to set up recurring payments and works well with mobile transactions.
Here are some plugins that you might be interested in using to add Stripe payment options to your WordPress ecommerce store: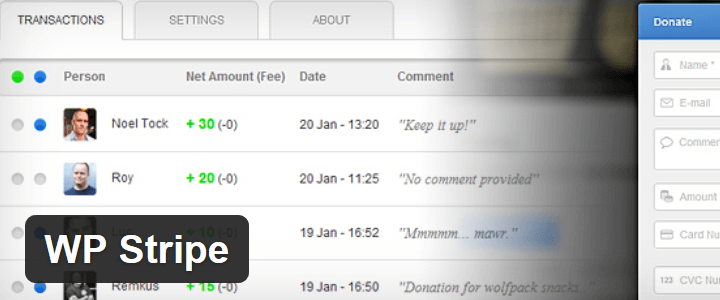 This simple plugin is designed for handling single payments via Stripe and works on any theme. You have the option to add a Donation Form with corresponding widgets displaying recent donation amounts. Gravatars can also be included on your website where recent donors can comment.
Price: FREE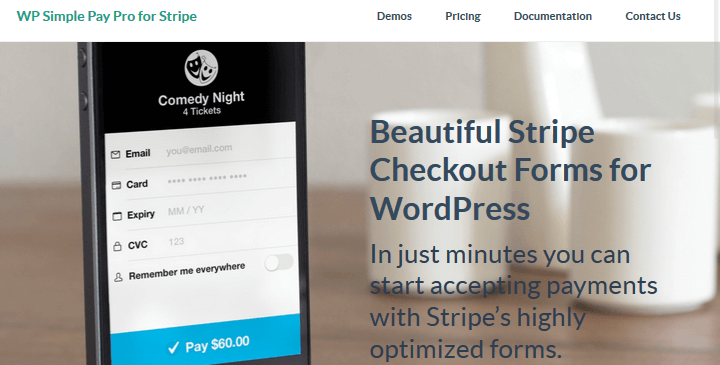 Checkout forms that convert, mobile optimization, specialized forms for entering user amounts, applying coupon codes, or purchasing a subscription; that's what WP Simple Pay Pro for Stripe is all about. The one drawback however seems to be that you must renew your plugin's license yearly to maintain use of this popular payment gateway on your e-commerce website.
Price: $29
Additional Stripe E-commerce Payment Plugins
Authorize.net
Authorize.net is a well-known payment gateway (requiring a separate merchant account) that charges both a setup fee and a monthly surcharge, in addition to transaction fees. You do however gain a highly secured payment gateway accepting all major credit cards, along with PayPal payments, the ability to charge recurring payments, and exceptional support if needed.
Amazon
Amazon payment gateways are working up the ranks in popularity and offer a similar approach as PayPal by bundling payment gateways and merchant accounts into one. Allowing customers to purchase items and use their Amazon account to finalize transactions, you are sure to see more need for an Amazon payment gateway in the future.
Final Thoughts
One of the many benefits of running an e-commerce store via the WordPress platform is its simple ability to integrate various payment gateways onto your website with the use of plugins. This post simply touches upon some of the many choices you have for integrating payment options onto your website. There are of course more comprehensive e-commerce platform plugins available that have payment gateways embedded and may better suit your needs. I only briefed the individual and more basic plugins as a way to introduce the topic of WordPress ecommerce payment plugins.
Have you tried any of the above mentioned e-commerce payment plugins for your online store? Have I left one out that you felt worked particularly well? I would love to hear all about it in the comments below!
Image courtesy of Freepik
Author Bio
Devesh Sharma is a WordPress fantastic and founder of WPKube, where you will find useful tutorials, in-depth guides, and useful deals such as WPEngine Coupon, Flywheel, and more. He also runs a small design blog –Pixelkube.